The Easiest Ways to Introduce Dogs and Cats
Yes, dogs and cats can get along with each other if they are introduced properly. They may not become best friends, but they will understand how to live with each other.
If you already own a dog but are interested in getting a cat, you may be thinking about the process of introducing them to each other. But the steps to introduce dogs and cats is a bit trickier than just sticking them in a room together. (Doing this will cause harm to both and may lead to death.)
To make sure the introduction goes smoothly, plan ahead. You might need plenty of time for your dog and cat to get acquainted. 
Here are the easiest ways to prepare.
Choosing The Right Cat
Before you get a cat, you'll want to consider the various cat breeds. Each breed has a different personality, so do some research before you make your decision. Interact with the cat you plan on getting for a while before you bring them home.
Try and imagine how its personality will mesh with your dog's. For example, if your dog is the type to chase things, your best bet is to get a cat that is calm and confident. A shy cat may end up being afraid of your dog.
If you think your cat's nervousness may be temporary, you can ease the transition with cat treats CBD or calming pheromones to help your feline stay calm.
Separate Dogs and Cats Temporarily
Before you introduce them, you should give them time to get used to each other's scent. This means confining one animal and letting the other one roam. Rotate which pet is confined and which is roaming for a few days.
When it comes time for them to meet, they won't be as surprised by each other. This would also be the time to assess how the meeting might go.
If your dog digs at the barrier that is keeping them from the cat, the interaction might not work out. At this point, you may want to consider pursuing training.
Choose The Right Location
If you've decided to adopt, Do Not try and bring your dog to the shelter where you are adopting your cat from. This could make him feel scared. Also, it's a health concern. The first interaction should take place at home.
Make sure the space you choose to introduce them is large, but not so large that they could end up freaking out and running away. If you don't have control of both pets, you may find them chasing each other.
Use Leashed Introductions
Before you let them interact on their own, you should let them meet each other while leashed. You can continue doing this for several days until your dog isn't bothered by your cat.
If either animal displays aggression or fear, you may want to backtrack and continue keeping them separated for a longer period of time.
If there is no one home, make sure one of or both of the animals are confined so they cannot interact with each other unsupervised.
Unsupervised Interactions
Once both animals feel relaxed, it may be time to let them interact on their own. Only allow this when you are sure that neither animal will hurt the other. It can take about a month to reach this point.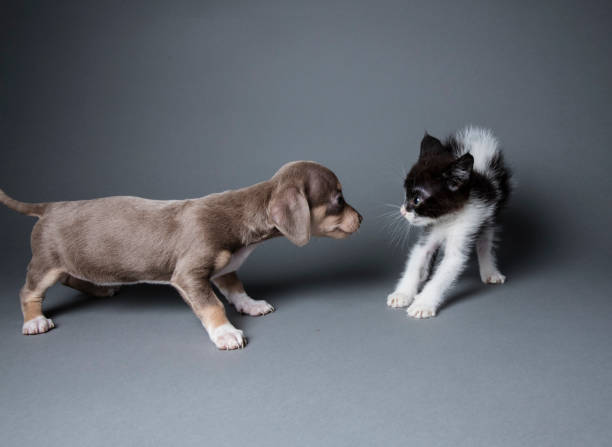 If it takes longer than this, don't feel discouraged. Every animal is different, and it's impossible to tell how the two personalities will interact. The important thing is that you don't force it. Eventually, they won't feel so shocked or threatened by each other.
Training Advice
If your dog remains focused on the door blocking them from your new pet cat, distract your dog with treats or by guiding them away on a leash.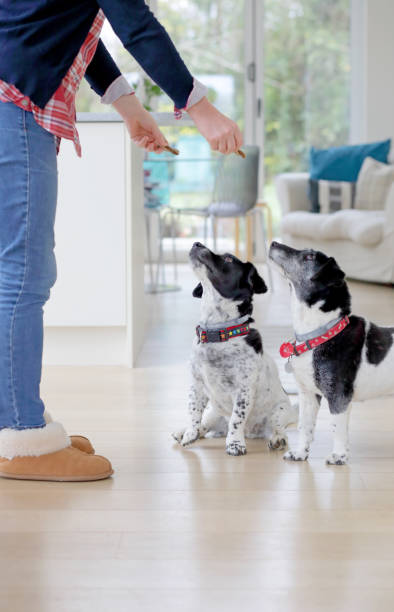 Once your dog is no longer near the cat, offer them a treat. Repeat this process several times until your dog loses interest. Over time, this will teach them that they shouldn't stay fixated on what's on the other side of the door.
Chloe and Twinkie Meeting Each Other
Deciding to Adopt a Cat
After two years of having Chloe, my husband and I decided to adopt a cat. I was volunteering at a shelter at the time and saw the perfect cat. She just arrived at the shelter after being on the streets. I asked if I could foster her while there was still a hold to find if she had any owners. Well, that turned into us keeping her! When we first brought her home, she was kept in the bathroom to calm down and Chloe couldn't get to her.
Chloe was very interested in what was on the other side of that door! We kept Chloe away from the door with treats and toys.
Getting the Smell of Each Other
After a couple days, I switched blankets so Twinkie could smell Chloe and vice versa. Chloe of coarse sniffed the blankets so deeply. Twinkie could care less!
Meeting Each Other
When a week went by and Chloe was more familiarized with Twinkie's smell, we introduced them to each other by having Chloe in her cage and having Twinkie roam around. This gave Twinkie time to get used to the house and could see Chloe.
Chloe, being so nosey, really wanted to meet Twinkie. So after Chloe calmed down, we switched pets in the cage. That way Chloe could sniff her up close without getting hurt and scaring Twinkie. Twinkie sniffed back and was very calm.
Leashed Chloe As Twinkie Ran Around
Next, we put Chloe on a leash and let Twinkie roam around freely. We wanted to let her know that she can run away from Chloe if she got tired of being around Chloe. She came around slowly at first because Chloe would whine and want to play with her!
Supervised Meeting
About two weeks after either having Chloe on a leash or Twinkie in a safe area where Chloe couldn't get to her, we did a supervised unleashed greeting. Chloe sniffed at Twinkie as Twinkie was trying to rub on Chloe. It was a great match!!
Introducing dogs and cats takes time and patience.